My Week In Lisbon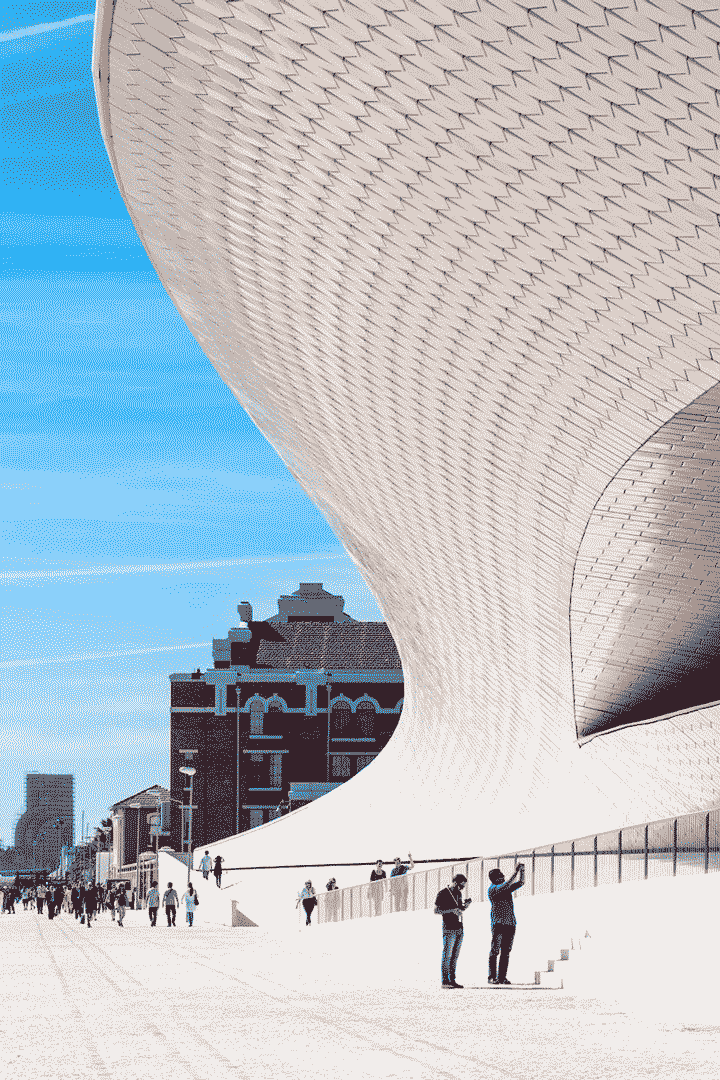 From 20th - 27th November, I spent a week in Lisbon. It was a life changing experience and something I will discuss below.
The inspiration was twofold. I wanted to go away for my birthday this year and rather than take one day off, I decided on taking a whole week off. In hindsight, this was one of the best decision I've made in years. When I decided this, I hadn't considered going away; it was going to be a week to myself and away from work and anything anxiety-inducing. But then I read about Portugal in March's edition of Monocle. They had a 64-page supplement promoting the Iberian nation's virtues and Lisbon was a prominent topic being the capital. They praised the city for its culture and the photos capitivated me. The only other European cities I'd visited were Barcelona, Paris, and Nice - well known cities with strong brands behind them. Lisbon is very much an understated European capital. Rather than experience something familiar, I wanted to try somewhere new and cultural. I booked the hotel and tickets within weeks.
Monday - Segunda-feira
My flight was at 4:30pm at London-Luton Airport. I'd travelled down the night before and stayed at my parents' house in Luton. The flight was a little late setting off but getting there was a breeze. The advantage of travelling alone - and by Easyjet - was not having to take responsibility for anyone by myself. I checked in online, bag drop was instantaneous and upon arrival, baggage claim was as quick. The airport had its own Metro station which was convenient and it was easy to navigate. The first thing that amazed me was the ability to use my mobile underground. 1-0 on the tube (although TfL are looking to add 4G coverage now). The journey to my hotel was smooth, although the train didn't go direct so I got off at the nearest stop and walked. I should have changed lines and go another train but it didn't bother me. From my station I walked the mile to my hotel (again, I didn't realise this but it was an easy walk). My room was €345 for 7 nights which I thought was very cheap. The location was yards away from a Metro station with connections to the main areas near the coast and the Estadio Jose Alvalade. The room itself was compact but ideal for my stay. Everythiing was minimal and to my tastes. I had the best night's sleep in months, if not years.
Tuesday - Terça-feira
I woke up at around 8ish. Breakfast wasn't included but at €7 a day, it was great value. I didn't fancy anything cooked so I went contintental - cakes, cereal, coffee, and juice. I stocked up and felt content - another first. I'd mentally planned a heap of places to go before coming but I decided to explore and take everything in. I was going to be there for 7 days so there was no immediate rush. In my regular day-to-day life, I find myself rushing through everything n my mind. Work kills my brain and when I leave, I try and savour as much time away as possible before I'm back again. I had no obligations to do anything in Lisbon so I took full advantage. I took a walk from my hotel towards Chiado and Rossio Square and ambled amongst the crowds. One thing I did plan to do was go record shopping. I bought a couple of records and some CDs from a couple of places before hunger set in. I had a lunch-dinner combo at Italian Burger & Lobster House. I gave into my gluttony and had lobster linguine AND an Italian burger. My belly was full for the next day but I had zero regrets. I waddled home via the Metro and counted it as a great day absorbing the Lisboetan ambience. I stayed up past midnight to celebrate my 28th birthday.
Wednesday - Quarta-feira
My first ever birthday spent abroad - but what to do? First thing was have breakfast again. I ate what I could after the monumental feast the night before. I had bought tickets to see Sporting CP play Olympiakos in the evening, so I had to find a way to print off my ticket. I found a printers on the way to the stadium but the match wasn't until 7:45pm. I'd picked out a museum to visit and that was my destination after going to the printers. It was only €0.20 to print out the sheet and it took a matter of minutes. I loved how easy and quick everything was in Lisbon. Then to the museum - the Museu Calouste Gulbenkian. There were two parts to the museum: one housed modern Portuguese art from the 20th century onwards and the other classical art from Greco-Roman eras up to 19th century. I spent the majority of my time in the modern art section. The site was a modernist utopia for me. There were elements of Miesian architecture and Brutalism, two styles I adored. It was an inspiring experience walking through and the best way to spend my birthday. I had a couple of pasteis de nata for the first time - Lisbon's delicacy and my goodness, it was worth the wait. No custard tart in the UK will ever touch its decadence. After leaving, I headed for Estadio Jose Alvalade for my first ever Champions League match. Getting the stadium was, again, easy and getting inside the stadium wasn't too bad. There was a period of waiting but getting to my seat was a doddle and food inside was remarkably cheap. Only €6-8 or so for a hot dog and a drink. The atmosphere was unique. I'd only ever been to two football matches before, both at Old Trafford and both in nosebleed seats. In Jose Alvalade, I chose a seat behind the dugouts so I could be somewhat equedistant from both goals. There wasn't any nastiness or chanting to throw shade at the opposition, which I preferred to the UK. Sporting ran out 3-1 winners in the end. I left a few minutes before the end to beat the deluge of fans and my journey back was only 20 minutes. The stadium's station was on the same line as my hotel which was perfect. Without question, the best birthday I've ever had.
Thursday - Quinta-feira
I woke up quite late and decided not to have breakfast. Rain was forecast but I forgot my umbrella when I went out. I needed some underwear and a jumper so I headed to H&M and picked them up. Then the showers came. I was unprepared in my t-shirt so I escaped to the nearest Metro station and headed back to my hotel. I picked up some popcorn on the way (which satiated my sweet tooth and plentiful for €3) and stayed in my room all day. I'd been feeling down that day, partly because my birthday was over but there wasn't anything specifically bothering me - just one of those Mental Health Days. I had a nap in the late afternoon and decided to head out for pizza for dinner. I remembered passing a Turkish pizzaria on my way to the hotel and decided on that. The food and service was lovely. It was a family run business and they were very attentive. I assumed custom wasn't regular so they welcomed my arrival. I had a börek for starter, a Turkish meat pizza for main, and a baklava for dessert. My mouth is watering thinking about how good they all tasted. One thing caught my attention as I ate. A customer made a takeaway order in Spanish. The restaurant owner and his son took the order and responded in Portuguese and the customer understood. I found this fascinating as between them, they could speak Spanish, Portuguese, Arabic, and English. I admire multilinguists so much so I loved watching them converse. Besides the washed out day, it wasn't a total waste and I got some new clothes.
Friday - Sexta-feira
No rain forecast. No breakfast again but my plans were made in the morning. I wanted to visit MAAT (Museum of Art, Architecture and Technology). It was another two-building complex, with the technology part in the modernised Tejo Power Station station and the art in the newly-designed kunsthall. The latter featured in Monocle and drew me to the city immediately. It's reminscient of Birmingham's Bullring but with a scale-like texture. Inside is magnificent. There are two floors of exhibitions and I enjoyed both. It was my kind of minimalism and I bought a few things from the giftshop. I sat outside for a few minutes and took in the view of the Belém coastline. It was a little breezy but the landscape instilled warmth. What I would have given to stay there forever. For dinner, I found a Mexican restaurant called Las Ficheras. Great prices, scrumptious food, and speedy service. The quesadillas were superb.
Saturday - Sábado
The rain came but before I left my hotel. I had breakfast this time, before they closed. I was feeling a little sad as this was one of my last days but I didn't stay in the doldrums for long. I returned to Belém for the Museu Coleção Berardo, a collection of modern art by Portuguese businessman, Joe Berardo. The collection is held at Centro Cultural de Belém which itself is a glorious piece of architecture. Berardo is a renowned art collector so it didn't surprise me to see the likes of Mondrian, Picasso, Warhol, Dalí and Pollock. It was another culturally enriching experience and a great way to spend a Saturday - plus it was free entry! I had dinner at Este Oeste, a sushi-pizza bar in the centre. Prices were decent given the type of food and it was excellent. I had sushi and pizza (because YOLO) and a tiramisu for pudding. I remember thinking I could get used to this life.
Sunday - Domingo
My last day. No breakfast again. I decided to visit the Museu Nacional de Arte Contemporânea do Chiado (or MNAC for short, but not to be confused with Museu Nacional d'Art de Catalunya) since entry was only €4. Unfortunately, only the temporary exhibitions were avilable which weren't to my tastes. I did have lunch in their quirky cafe named Spleen. A €13 buffet wasn't to be ignored and the food was finally more akin to Portuguese cuisine to what I had been before. It also rekindled my love of yoghurt and honey which I've since had quite a bit of upon my return. It was the most European meal I'd ever had and I loved it. With most of the day still left, I had no idea what I wanted to do. I got on the Metro and got off when I wanted. In the end, I went back to the São Sebastião station, where I was on Wednesday to visit Museu Calouste Gulbenkian. Out of station, you come into El Corte Inglés, a English-style department store. I wanted to take in the movement and atmosphere of the Lisboetas for one last time so I walked through every floor with no intention to buy anything. Except I did. I noticed the toy department and before it, the Christmas decorations. Their selection was abundant and vibrant with colour. I picked up a pendant bauble for €4. That's when my Christmas spirit kicked in and overrode my sadness of leaving. That was a lovely part of the day.
Monday - Segunda-feira
I bid farewell to the hotel. No breakfast as I had to leave early. The Metro ride was prompt, getting through customs was brief and the plane ride home was without a hitch. I felt the sting of being back in England when I bought a train ticket back to my parents' nearest station. Metro rides were €1.80 per single. This train ticket for two stops cost over £5.
As I said earlier, Lisbon is an understated capital. It has virtues that rival its nearby peers like Barcelona and Paris but I quite like its humble nature. That's why it resonated so much with me before and during my stay. I found myself in the city in more ways than one and it was the happiest I'd been in 5 years. It's definitely my #1 destination in the world and somewhere I'd love to live in the future. I wasn't able to use any of my spoken Portuguese while I was out there but I brushed up on my reading and listening. Lisbon has a place in my heart and I plan to be part of it again very soon. If you want a relaxing, uncrowded getaway, bursting with culture, food and Mediterranean weather, Lisbon is the place for you.